What is a post nuptial agreement?
Pre-nuptial agreements have attracted lots of interest over recent years, but did you know that it is also possible to have an agreement after you've gotten married?
Post-nuptial agreements signed after marriage or a civil partnership can be legally binding in the same manner as a prenuptial agreement, assuming it has been properly prepared. In England and Wales therefore, a Court would consider any properly drafted postnuptial agreement as one of the circumstances of the case, meaning the Court is not bound by the terms of the agreement, but will take it into consideration.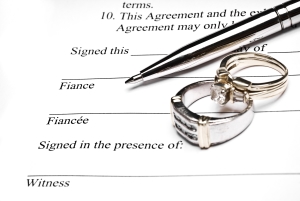 If you are seeking a post-nup, you should bear in mind the following in order to ensure, as far as possible, that a Court will consider it upon divorce:
There must be full and frank financial disclosure between the parties of all assets and income, and a schedule appended to the agreement.
Both parties must take independent legal advice.
The agreement must not be clearly unfair to either party.
The agreement cannot exclude a party from paying maintenance for any children in the future.
There should be provision for regular reviews, or at any important life change, such as the birth or adoption of a child.
If you would like to discuss any of the above further, please contact me on 01327 720091 or complete the Contact us form.
Written by Felicity Lister, Family Law Consultant