Preparing for your wedding? - Have you thought about a Prenuptial agreement?
A Prenuptial agreement or a "pre-nup" as they are often referred to, is a contract that you and your future husband or wife enter into prior to the wedding ceremony. It is a formal agreement setting out how you intend to deal with your property, savings etc. whilst married and how those items are to be divided in the event of the marriage coming to an end. The agreement can also set out ongoing future support such as child maintenance and spousal maintenance.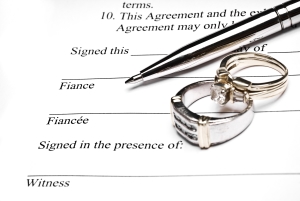 We would recommend that the agreement is drawn up well in advance to give time for you both to fully consider the implications of entering into such an agreement as well as the terms of the agreement itself. If we are the solicitors preparing the agreement for you, your future husband or wife would need to obtain independent legal advice, from a solicitor of their choosing, on the agreement before it is signed. The document must be completed and signed a minimum of 28 days prior to the ceremony.
Are they legal in the UK?
We are finding that Prenuptial agreements are becoming increasingly popular. As you may know they have been legally binding in most US states for some time. However, until recently they were not legally enforceable in England and Wales. Following a landmark ruling by the Supreme Court's in the Radmacher V Granatino case in October 2010, prenuptial agreements are now highly persuasive and in most cases are likely to be upheld unless they are considered to be unfair by the court. This means that a prenuptial agreement now carries more weight and can provide legally binding guidelines for the couple to turn to in the event that things go wrong thereby avoiding the heartache and stress of a drawn out or difficult divorce.
Why should I have one?
It really is a choice for the two of you. There is no legal requirement to a have prenuptial agreement drawn up. You can only have one if you both agree that it is the right thing for the both of you.
Here are some of the reasons that past clients have chosen a prenuptial agreement:
You and your future husband or wife have lots of assets/property that would be difficult to divide in the event of a dispute.
You or your future husband or wife may already own a property or maybe you hold one jointly as tenants-in-common. The prenuptial agreement could set out what is to happen to the property should the marriage breakdown.
You have been divorced before and not want to go through a contested process again.
Perhaps you have an inheritance, a business, savings or children from a previous relationship that you'd like to protect. Likewise if you are expecting an inheritance that you would like to retain in the event of the marriage breaking down.
You would both like to control how things would be resolved rather than leaving your assets to be divided in accordance with the law at the time, should something go wrong.
Is it worth having one?
It's a difficult question to answer and depends how you both feel. However in the unfortunate event of a divorce you may wish you had considered one, as it would make the process of splitting up far smoother.
How do I go about getting one?
Make an appointment to come in and tell us about your circumstances and assets and those of your future husband or wife. Please note that only one of you can instruct us, the other will need independent advice from another solicitor. We will ask you a series of questions to ascertain the extent of each of your financial positions and your desires and aims for the agreement. The agreement is bespoke and drafted to your unique circumstances. You must bear in mind that it takes time to prepare the agreement and it must be signed at least 28 days before your wedding ceremony.
Once the agreement is signed in duplicate you will both have a copy to keep safe. It is recommended that your prenuptial agreement is reviewed regularly during the marriage and perhaps updated.